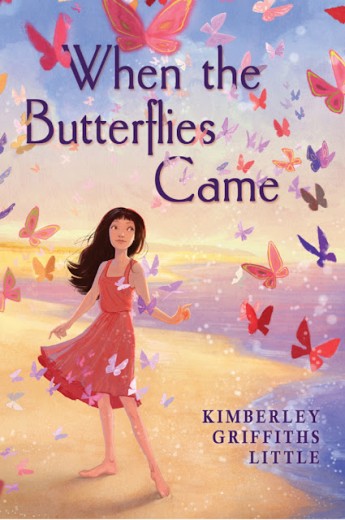 Scholastic
April 1, 2013

Guides
When the Butterflies Came
Everybody thinks Tara Doucet has the perfect life. But in reality, Tara's life is anything but perfect: Her dear Grammy Claire has just passed away, her mother is depressed and distant, and she and her sister Riley can't seem to agree on anything. But when mysterious and dazzling butterflies begin to follow her around after Grammy Claire's funeral, Tara just knows in her heart that her grandmother has left her one final mystery to solve.
A strange butler shows up to take Tara and Riley to Grammy Claire's house, where Tara finds a stack of keys and detailed letters from Grammy Claire herself. Note by note, Tara learns unexpected truths about her grandmother's life. As the letters grow more ominous and the keys more difficult to decipher, Tara realizes that the secrets she must uncover could lead to mortal danger. And when Tara and Riley are swept away to the beautiful island of Chuuk to hear their grandmother's will, Tara discovers the most shocking truth of all — one that will change her life forever.
From Kimberley Griffiths Little comes a magical, breathtaking mystery full of loss and love, family and faith.
My fabulous illustrator is Erin McGuire. She did the jacket art for When the Butterflies Came and Circle of Secrets. Check out Erin's very interesting blog and see the other books she's illustrated. Fabulous work! I'm very lucky!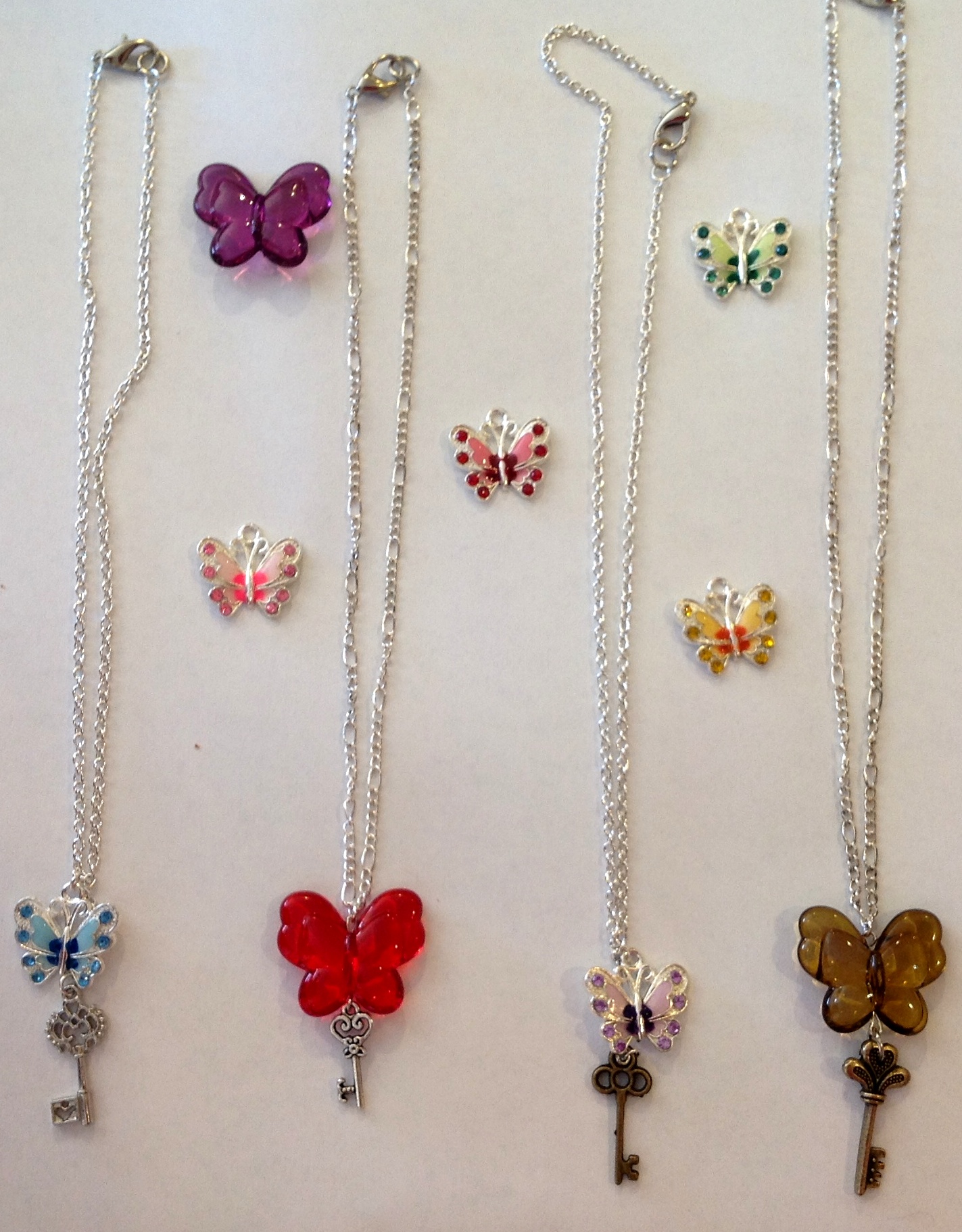 Purchase a beautiful *BUTTERFLY NECKLACE* for the special daughter, niece, granddaughter, or friend in your life.
Choose your favorite color (red, blue, green, yellow, purple, pink, brown)
Specify a silver or brass key
Only $6.99 + 4.00 shipping/handling for a Total of $10.99
Email Kimberley at kglittle@msn.com to send a Check
OR use Paypal: kglittle@msn.com
(Don't forget to include your name and address!)
Trailer
Reviews
American Library Association BOOKLIST Review: "Twelve-year-old Tara's chaotic life has always be steadied by one person—her beloved Grammy Claire. Now Grammy Claire is gone, and the Louisiana home that has sheltered Tara's family for generations may be repossessed. In the midst of her grief, Tara's heart is lightened when an extraordinary butterfly flies through her bedroom window and lands on Tara's finger. Then a mysterious letter arrives for Tara—from Grammy Claire! This is the first clue in a secret mission that Grammy Claire seems to be directing from beyond the grave. Tara receives a set of variously shaped keys, each one unlocking the next clue, always written in Grammy Claire's handwriting. In many ways this is an old-fashioned mystery that depends on Tara's wits, not, refreshingly, from magical solutions and supernatural powers. While sophisticated readers may find the sequence of keys and clues somewhat unbelievable, young mystery lovers will enjoy the chance to test their own detection skills. Recommend this to readers who have enjoyed books by Andrew Clements or Blue Balliett. Grades 5-8.
—Diane Colson
Kirkus Reviews: "The day following her grandmother's funeral, butterflies begin visiting grieving 12-year-old Tara, who's swept into a bizarre mystery involving her grandmother, butterflies and a small Pacific island. Raised in a deteriorating Louisiana plantation house. . . Suspense builds as Tara relies on her wits and follows her heart to Chuuk, where she risks all to save Grammy's butterflies. Plucky Tara tells her implausible tale in a colloquial first person, present tense that slips occasionally, allowing readers to feel her grief, wonder, fear and surprise. Middle-grade readers should respond to this perplexing puzzle and its resourceful heroine."
Children's Literature: "Twelve-year-old Tara Doucet is distraught over her Grammy Claire's death. She feels alone in her grief; her mother suffers from depression, her older sister Riley is aloof, and her divorced father has moved far away. Moreover, the family can no longer afford the upkeep on the Bayou Bridge mansion that has been in her family for many generations. The first of the butterflies arrives the day after the funeral. Shortly thereafter, a mysterious envelope arrives for Tara with a series of instructions from her now-deceased Grammy. They lead Tara and Riley to Grammy's home in the South Pacific, where Tara learns that her grandmother was killed because of her scientific research on the butterflies from the island of Chuuk. Through the clues, Tara discovers the identity of the killer and the special power of the butterflies. Kimberley Griffiths Little leaves clues along the way for readers to follow in this intriguing environmental/medical mystery. The story is cleverly put together with several red herrings and a fine twist at the end. Good development of the storyline of the two sisters, as well as a budding romance between Tara and an island boy make this a fun read."
—Sharon Salluzzo
BOOK PAGE: "'The first butterfly comes the day after the funeral.' Often, the first line of a book is just that, a generic starting point for a story that has to begin somewhere. But sometimes, that first line can be magical, pulling readers into a book that they have no hope of escaping until they arrive, breathless, at the end. When the Butterflies Came is one of those stories. Its sublime first line transitions into a tale filled with intrigue, love, suspense and heartbreak."
"Tara Doucet, descendent of a proud, traditional Louisiana family, has just lost her beloved Grammy Claire. Tara's mother has withdrawn from the family, leaving Tara and her older, much grumpier sister Riley to fend for themselves. But then, the first butterfly comes—big and beautiful, right through Tara's window—and hovers directly in front of her. This butterfly sets in motion a series of events that will transport Tara and Riley from their home and into the middle of a mystery that becomes more dangerous by the day.
When the Butterflies Came is a unique book that defies definition. It could be called a murder mystery, a coming-of-age story, an environmental tale or a fantasy. Whatever the category, it is definitely engrossing—right from the very first line."
—Kevin Delecki
---