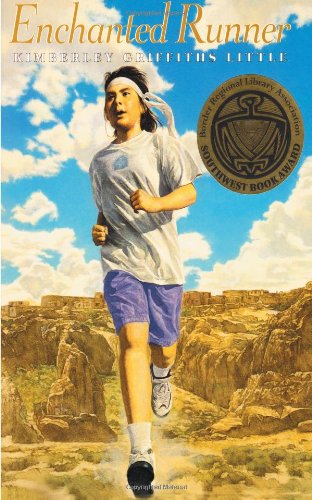 Avon
August 1, 1999

Guides
Enchanted Runner
Kendall believes in magic. He can feel it when he runs. And since his mother's death a year ago, the urge has become too big to explain. During her illness, Kendall ran to save her. Now he runs to retrieve the memory of her face. Sometimes, too, he imagines himself running like the warriors in Mom's stories, Acoma Runners returning to his mother's native pueblo tribe, to the cliffs of Acoma…Sky City…a place she promised they would visit together when he turned twelve.
As Kendall prepares for a summer-long adventure spent criss-crossing the states in his dad's semi, a letter arrives from his mother's grandfather, beckoning him to Acoma. He feels cheated, until it occurs to him that his mom might somehow be there, in Sky City. He's twelve, after all, and his mother always kept her promises.
Drawn into his great-grandfather's world of secrets and sacred ceremony, Kendall discovers that the magic he feels when he runs is a proud legacy, one linked to a way of life as ancient and mysterious as the earth itself. In the process of trying to recover his mother, Kendall reclaims his worldly and spiritual heritage, in a moving story of one boy's search for identity and belonging.
Awards and Honors
Reviews
"...the novel contains a beautifully realized setting and a treatment of Native American culture and religious beliefs that is both sympathetic and evocative."~ Michael Cart for Booklist
"Little has composed a fine coming-of-age story; she enhances it with a lot of insight into a vanishing way of life and the need to preserve it." ~Kirkus
"...a respectful look at a Native culture and at a boy trying to discover where he belongs." ~ The Horn Book
"As Kendall is tested physically and spiritually, the story becomes even more meaningful." ~ KLIATT, starred review
"Lyrical . . . a sympathetic portrayal." ~ Bulletin of the Center for Children's Books
---