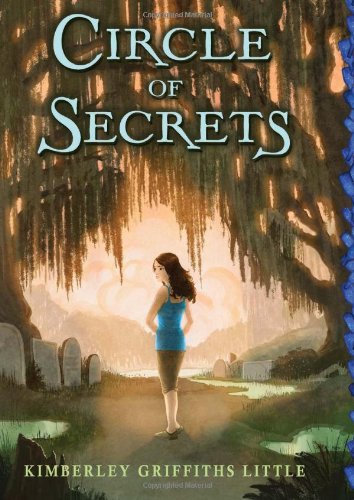 Scholastic
October 1, 2011

Guides
Circle of Secrets
Critically acclaimed author Kimberley Griffiths Little weaves a haunting story of friendship and family and the power of faith, once again set against the lush backdrop of the Louisiana bayou.
After her mother walked out on Shelby Jayne and her dad, Shelby thought she'd never speak to her mamma again. But with her dad leaving the country for work, it turns out she doesn't have a choice: Shelby has to move back into her mamma's house, deep in the heart of the Louisiana bayou.
Her new classmates tease and torment her, so Shelby's relieved to finally find a friend in Gwen, a mysterious girl who lives alone on the bayou. But Shelby can't help wondering if Gwen has something to do with the puzzling messages she finds hidden in the blue bottle tree behind her house. The only person who might be able to explain is her mamma — but Shelby's not ready to ask. Not yet. It may take a brush with something from the beyond to help Shelby see that the power to put her own ghosts to rest is within her reach.
Kimberley Griffiths Little's haunting and powerful tale brings one girl's attempt to grapple with family, friendship, and forgiveness to beautiful, vivid life.
CIRCLE OF SECRETS has been chosen for the 2012-2013 Battle of the Books List in New Mexico!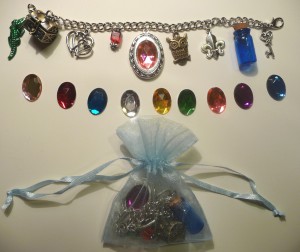 Purchase a beautiful *CHARM BRACELET* for the special daughter, niece, granddaughter, or friend in your life.
ONLY $11.99 plus $3.00 Shipping!!!
Choose your favorite color for the locket (from Left to Right):
Light Pink, Red, Turquoise, Clear, Yellow, Green, Dark Pink, Purple, Blue in a beautiful blue drawstring bag!
Email me at kglittle@msn.com for your very own charm bracelet from CIRCLE OF SECRETS!
Trailer
Reviews
Kirkus Reviews: "A steamy Louisiana bayou is the atmospheric backdrop to a tale about a daughter's estrangement from her mom, the mother's long-held guilty secret and a restless ghost's long-sought closure. Shelby gets drawn into mysterious doings involving strange notes hidden in glass bottles that hang from a tree near home . . The author serves up the setting well, evoking the sights, sounds and smells of the humid, tangled bayou. A very dramatic climax leads to a sweet, satisfying ending with some surprising twists and with reconciliation occurring for several characters.
For readers who like their ghost stories more friendly than terrifying." (Suspense. 9 -12)
**STARRED** Review from SCHOOL LIBRARY JOURNAL: Gr 5-8– "A story of loss, love, and forgiveness. When Shelby Jane's father is sent out of the country for his work and her Grandma Phoebe must have an operation, she is sent to live with her mama deep in the Louisiana bayou. Because Shelby, 10, believes that her mother abandoned her, the start of this mother/daughter reunion is contentious, and Shelby seems determined to maintain her distance. Mirage is a traiteur, a healer who ministers to those in need with herbal remedies, prayers, and patience. Selby's reluctance to give an inch at first makes her transition to life in the bayou that much more difficult. She can't, however, squelch her fascination with the blue bottle tree in the backyard. Mirage explains that the bottles are supposed to capture spirits and that notes are put inside to send messages from the beyond. A mysterious tone permeates this gripping story. Shelby is a believable, fully developed character, as is Mirage. When the child starts at her new school, she is drawn into a frightening truth-or-dare challenge by the in crowd, which foreshadows future eerie, terrifying developments. Her strong friendship with mysterious Gwen dovetails with her determination to understand notes she takes from the blue bottle tree and Mirage's references to painful memories she is trying to forget. Little's rich, vivid prose and characterization create an intriguing universe in which realism and mysticism intertwine as the story's secrets unravel. Fans of Little's The Healing Spell (Scholastic, 2010) and Donna Jo Napoli's Alligator Bayou (Random, 2009) will be well served by this selection."
American Library Association BOOKLIST Review: "In this atmospheric story—part mystery, part ghost story—set deep in the Louisiana bayous, 11-year-old Shelby has her hands full. She has to contend not only with a contingent of malicious local bullies but also her conflicted feelings for her estranged mother, Mirage—a traiteur, or traditional healer—with whom she must live while her father travels on business. Tormented, she skips classes to meet up with a mysterious girl named Gwen who frequents a spooky bridge—the site of some of the bullies' cruel games. Gwen also seems to be connected to the messages Shelby finds inside the blue bottles adorning her mother's backyard "bottle" tree, as well as the heirloom charm bracelet bequeathed to Shelby by Mirage. Everything converges at the bridge during a dramatic and dangerous storm, and the final revelations make for a satisfying ending."
—Karen Cruze
---