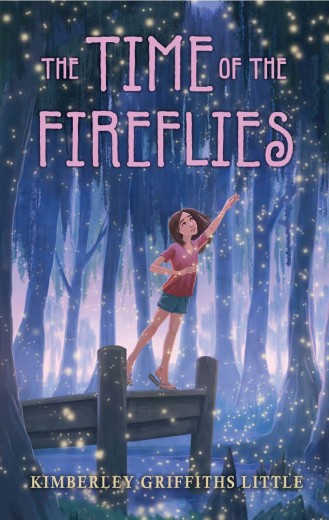 Scholastic
July 29, 2014

Guides
The Time of the Fireflies
When Larissa Renaud starts receiving eerie phone calls on a disconnected old phone in her family's antique shop, she knows she's in for a strange summer. A series of clues leads her to the muddy river banks, where clouds of fireflies dance among the cypress knees and cattails each evening at twilight. The fireflies are beautiful and mysterious, and they take her on a magical journey through time, where Larissa learns secrets about her family's tragic past — deadly, curse-ridden secrets that could harm the future of her family as she knows it. It soon becomes clear that it is up to Larissa to prevent history from repeating itself and a fatal tragedy from striking the people she loves.
With her signature lyricism, Kimberley Griffiths Little weaves a thrilling tale filled with family secrets, haunting mystery, and dangerous adventure.
Trailer
Reviews
PUBLISHER'S WEEKLY: "Little's strengths lie in building a strong sense of the history of a place, its inhabitants, and how one can greatly affect the other. A satisfyingly creepy mystery, wrapped up in the bonds of family."
SCHOOL LIBRARY JOURNAL: "This is a haunting, well-constructed tale that keeps readers guessing until the end. The feel of the old bayou infuses the story and the well-developed characters fit into the landscape, moving along in a plot filled with suspense, adventure, and mystery. A perfect choice for lovers of ghost stories, historical fiction, or just a good yarn."
KIRKUS REVIEWS: "Suspense builds quickly and doesn't falter . . . Larissa's first-person narration is fresh and engaging, and the richly evoked south Louisiana setting serves to ground this ethereal tale in a real time and place while contributing to the mysterious mood it requires. For those fond of exceedingly creepy but not-too-violent stories of the supernatural. Fans of Mary Downing Hahn will devour this one."
BBCB: BULLETIN OF THE CENTER FOR CHILDREN'S BOOKS: "The story here is both sweet and atmospheric, with the intriguing mystery behind Larissa's family history capably balanced with the more quotidian, accessible elements of her dealing with the arrival of a new sibling and coping with bullying. Larissa's narration is particularly effective at capturing her overreactions without making her seem melodramatic, and her concern over her appearance and how it relates to her budding identity will be familiar to preteen readers. Moss-covered cypresses and gator-filled swamps make for a beautifully dangerous Southern setting, but the book is evasive on the issue of race, never directly acknowledging the racial divide between the wealthy plantation owners and their servants. This still makes for an absorbing read, however, and it would make an appealing read-alike to Thompson's The Girl from Felony Bay"
BOOKPAGE REVIEW : "Kimberley Griffiths Little's new book brings all the eeriness of the Louisiana bayou into an engaging story about a girl, her family and the secrets of the past."
"Preteen Larissa Renaud didn't exactly want to travel through time, but she does want to find out who the strange caller is on the disconnected phone in her family's antique store. The caller can't tell Larissa more than that she needs to 'follow the fireflies.' When Larissa does, she finds herself observing a scene from the 1800s and learning more about her family history than her mother ever told her. As she starts to put all the pieces of the past together, the pieces of the present start to fall apart."
"Full of adventure, The Time of the Fireflies takes Larissa on a wild ride with just enough—but not too much—scariness for a younger reader. Little's prose is accessible and lyrical, making her new book an enjoyable read."
—Jennifer Bruer Kitchel
---