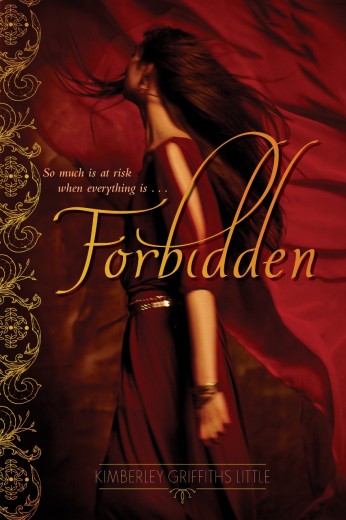 Harpercollins
November 4, 2014

Paperback of FORBIDDEN is out!
January 5, 2016

FORBIDDEN
Book One of the FORBIDDEN Trilogy
A sweeping, epic saga of romance and hardship, set against the dramatic backdrop of ancient Mesopotamia—perfect for fans of Cleopatra's Moon or the adult bestseller The Red Tent.
In the unforgiving Mesopotamian desert where Jayden's tribe lives, betrothal celebrations abound, and tonight it is Jayden's turn to be honored. But while this union with Horeb, the son of her tribe's leader, will bring a life of riches and restore her family's position within the tribe, it will come at the price of Jayden's heart.
Then a shadowy boy from the Southern Lands appears. Handsome and mysterious, Kadesh fills Jayden's heart with a passion she never knew possible. But with Horeb's increasingly violent threats haunting Jayden's every move, she knows she must find a way to escape—or die trying.
With a forbidden romance blossoming in her heart and her family's survival on the line, Jayden must embark on a deadly journey to save the ones she loves—and find a true love for herself.
Set against the brilliant backdrop of the sprawling desert, the story of Jayden and Kadesh will leave readers absolutely breathless as they defy the odds and risk it all to be together.
A sweepingly epic novel of peer pressure and cults set against the ancient art of belly dance, in which 16-year-old Jayden's faith and character is tested to their limits, even death, as she watches her family and the world around her fall apart.
AWARDS:
ARIZONA/NEW MEXICO BOOK AWARD WINNER!
BOOKLIST named FORBIDDEN a Top 10 YA Historical Novel of 2015!
BOOKLIST named FORBIDDEN a Top 10 YA Romance Novel of 2015!
BOOKLIST named FORBIDDEN a Top 10 YA Religious/Spiritual Novel of 2015!
2015 WHITNEY AWARD FINALIST
2015 LETTERS OF MORMON ARTS AWARD FINALIST
You can Order a SIGNED Copy from my local indie bookstore, Bookworks! Call them at 505-344-8139
If you'd like a set of Book Club Cards for your book club – or to start a book club – please email me at kglittle@msn.com with your address and I'll send you a set.
Trailer
Watch the stunning book trailer for FORBIDDEN! Filmed "on location".
Reviews
ALA BOOKLIST, *STARRED REVIEW* Gr 9 Up— "In the unforgiving desert of Mesopotamia, 1,700 years before the birth of Jesus, lives Jayden's tribe, descendants of Abraham and believers in the one God. For Jayden, her life is filled with certainty. She is betrothed to Horeb, who will one day become tribal leader, and until their wedding, she lives with her loving parents and sister, Leila. Then all falls apart. Her mother dies in childbirth; her sister insists that she will move to the Temple of Ashtoreth, where she will live in luxury as a pagan priestess; and Kadesh, a stranger, comes to her aid and into her heart. Jayden tries to fight a relationship that is strictly forbidden, but as Horeb's cruelty becomes more and more evident, Jayden must make choices between dishonor and Freedom. At its core, this is a romance, with all the push and pull that goes along with impossible love, and Little elevates the story by creating a perilous landscape, both outward and inward, as Jayden must deal with the hardship of desert life as well as her own desires. This fits neatly into the new adult category, and an apparent sequel will be anticipated."
BULLETIN OF THE CENTER FOR CHILDREN'S BOOKS Gr 9 Up— "In the desert sands outside of Tadmur, Jayden and her tribe avoid the increasing reach of Hammurabi's Babylonian empire by remaining nomads, traveling on camels and setting up temporary tent villages. Jayden is betrothed to Horeb, her tribe's leader, although she's horrified by his casual cruelty and rage. When her mother dies in childbirth, Jayden is certain her last chance of escaping Horeb dies with her, but then a mysterious and handsome stranger shows up, seeking refuge with her tribe. Despite Jayden's attempts to resist Kadesh's appeal, the two eventually give in to their attraction; unfortunately, their romantic encounter (mostly chaste, by modern standards) is witnessed by Horeb, the lovers are separated, and Jayden is forced to flee to a city she's never known. Rich historical details are deftly woven into Jayden's narration, and the dynamics of Jayden's tribe are vividly drawn, making her powerlessness in the situation painfully clear. The romance between Kadesh and Jayden is sweet and tender, but through her journey to the city and in ultimate decision to reinvent her life, Jayden's story becomes as much about finding herself as it is about finding love."
SCHOOL LIBRARY JOURNAL: Gr 9 Up— "In this novel set in ancient Syria at the time of Hammurabi, 16-year-old Jayden is betrothed to Horeb, future king of her tribe, a contract she views with apprehension. When her mother dies in childbirth, Jayden, her sister Leila, and her father are left behind to bury the dead. While mourning at her mother's gravesite, Jayden meets a mysterious young man from the south who tells her his name is Kadesh and that he has been stranded in the desert after an attack on his trading caravan. As Kadesh travels with her and her family, Jayden falls in love with him, a forbidden romance because of her betrothal to Horeb. The heroine is also trying to protect her older sister Leila, who wishes to leave tribal life behind and live at the temple of Ashtoreth as a temple prostitute. When Horeb turns violent, Jayden must find a way to save herself, her family, and Kadesh. Middle Eastern dance is a major part of this story. The protagonist and the women of her tribe dance to celebrate betrothals, to ease childbirth, and to mourn death. The women at the temple of Ashtoreth also dance, ostensibly in worship of the goddess, but male spectators see their dance as sexually titillating, an attitude offensive to Jayden's people. This is a fast-paced, entertaining choice which will appeal to fans of historical fiction and romance, as well as readers interested in this dance form."
AWARDS for FORBIDDEN:
Whitney Award Finalist
Letters of Mormon Arts Award Finalist
Top Ten YA Historical Novel of 2015 by ALA's BOOKLIST!
Top Ten YA Romance Novel of 2015 by ALA's BOOKLIST!
---